Meet Angela, Data Engineer @ OQuila
Rebekka Van Acker
01 september 2022
A few months ago, Angela Zegarra joined the OQuila team. Her background story is quite interesting... that's why we are delighted to share it with you!
Hi Angela, you're working already 5 months for OQuila, how is it?
The team energy is something remarkable. From day one they support me in my job. They demonstrate how important it is to share and motivate each other to get the best results for every project.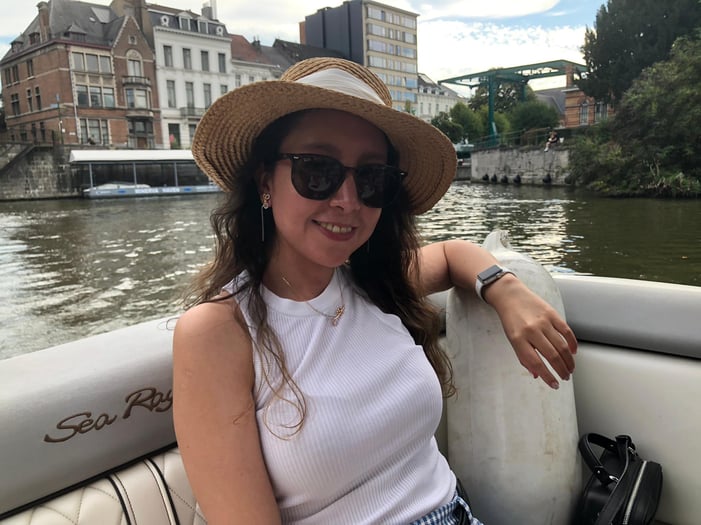 How did you become acquainted with OQuila?


I was looking for a different approach in my career. Data Engineer was the perfect fit with my background as a Software Developer. Via LinkedIn I noticed that OQuila had a job offer for a Data Engineer. I talked with Rebekka about the technical content of the job but also about the way the team works. Communication, connectivity and passion were highlighted points for them and I felt the match.
What does an average day look like as a Data Engineer?
In my first months at OQuila, I've done some training, together with that, my main tasks are working with different data sources, analyzing, building Azure Synapse pipelines and transforming data. That way, it can be used in different kind of reports.
How did you end up in Belgium?
After my studies in System Engineering, I started working as a software developer in Peru. One day, I decided to go on a solo trip to Europe and this adventure led in not only discovering myself but redefining my life purposes.
Starting from scratch in a new country , living a different culture is not easy, but it is what implied to follow my dreams. I did an internship in Belgium and after some time I could focused more on my professional goals and I began looking for a job as Data Engineer. With OQuila I got this great opportunity to change my career path.
How do you see your future?
I have no doubt that I want to become a data engineer expert. I believe that in job, as in life, motivation and hard work will help me to achieve my goals. And once I have enough experience, I would like to help others in data as a mentor.
What was your most memorable moment at OQuila so far?
I started few months ago, and I'm certain that many memorable moments are yet to come. So far, enjoyed Fridays lunches at the office with funny and enjoyable chats in addition to our new cool work environment.